Story - Patti Mansfiled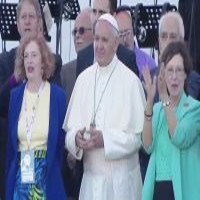 Na fotografii v zelenom saku vedľa sv. otca Františka.

Je manželkou a mamou, ktorej horí srdce pre lásku Ježiša Krista. Túži, aby Jeho lásku zažili všetci ľudia na zemi.


Svedectvo Patti Mansfield odznelo na Turíce (01. júna 2017) v Ríme pri príležitosti 50. výročia vzniku katolíckej charizmatickej obnovy.
V roku 1967, asi dva mesiace potom, čo som sa zúčastnila duchovných cvičení na Duquesnskej univerzite, som sa pýtala, či je krst v Duchu Svätom pre každého? A ako som sa modlila a pýtala sa Pána na túto otázku, Pán ku mne prehovoril prorockým slovom. Bolo to v nedeľu Zoslania Ducha Svätého (Turíce), 14. mája 1967, pred 50 rokmi. Nikdy som toto slovo doteraz verejne nezdieľala, ale pri príležitosti zlatého 50. výročia Zoslania Ducha Svätého vnímam, že je správny čas tak urobiť:
"Môj Duch je pre všetkých ľudí. Prisľúbil som vám ho a dám vám ho. Musíte si ho však pýtať, musíte hľadať. Otvorte svoje mysle, otvorte svoje srdcia, otvorte svoju náruč, pozdvihnite ruky, ďakujte, že som vás oslobodil od vašich hriechov a že teraz kraľujem v moci s mojím Otcom. Volajte na mňa. Som stále s vami. Moje deti, čo mám ešte urobiť, aby som vám dokázal svoju lásku?"
S 50 ročným odstupom vidíme ako Pán slávne naplnil toto slovo, keďže dnes nás sú tisíce tisícov po celom svete. Sláva Pánovi!
Bola som vychovaná v katolíckej rodine. Nechodila som však do katolíckej školy. Na univerzite som sa rozhodla, že chcem chodiť do katolíckej školy, pretože som sa chcela naučiť viac o viere a o Bohu. Chodila som na teologické kurzy a uvedomila som si niečo veľmi dôležité. A to, že o Bohu nestačí mať iba intelektuálne poznatky. Bola som hladná a smädná po poznaní Boha v mojom srdci a v mojej osobnej skúsenosti. Na základe dobrého príkladu mojej spolužiačky som začala chodiť na svätú omšu každý deň. Skrze jej pozvanie som sa pripojila k biblickej skupinke, ktorá sa na internáte stretávala raz týždenne. O tejto skupinke hovoril David Mangan.
Mali sme raz ročne duchovné cvičenia, ktoré vyšli na 17-19. februára 1967. Preberali sme knižný príbeh Dýka a kríž, ktorý napísal David Wilkerson. Je to príbeh pentakostálneho služobníka, ktorý za dramatických okolností opustil malé mesto a navštevoval ulice New Yorku, aby pracoval s drogovo závislými a prostitútkami. Bola som nadšená týmto príbehom. Inšpirovaná príbehom som zobrala Bibliu, aby som si prečítala prvé 4 kapitoly Skutkov apoštolských. Čítala som ich prvý krát a zaujali ma natoľko, že som ich čítala znovu a znovu, pretože som si myslela, že ostatní študenti tomu textu porozumejú lepšie ako som porozumela ja. Keď som skončila moju prípravu, bola som sama v izbe. Kľakla som si vedľa postele a povedala som Pánovi:
"Pane, ako katolíčka verím, že som prijala Tvojho Ducha vo sviatostiach krstu a birmovania, ale Pane, ak je možné, aby Tvoj Duch vykonal vo mne viac, tak chcem viac."
To, čo som povedala, vychádzalo z môjho srdca. Pozrela som sa okolo seba a čakala som, že sa mi zjaví anjel alebo dostanem víziu alebo, že budem niečo cítiť. Viete čo som cítila? Nič. Vôbec nič.
Tak som si povedala, že to asi nefunguje. Pomyslela som si, že intimita s Pánom je len pre špeciálnych ľudí. Pre kňazov, zasvätené osoby, pre služobníkov a misionárov. Ja som obyčajná. Chcela som vždy byť iba manželkou a mamou.
Myslela som si, že Pán nevypočul moju modlitbu, ale bolo to inak. Dnes viem, že Pán naisto počul moju modlitbu, pretože som sa modlila za milosť byť pokrstená v Duchu Svätom.
V tom čase som nepoznala pojem krst v Duchu Svätom. Zaujímavé bolo, že sme sa na duchovných cvičeniach stretli v kaplnke, ktorá bola na poschodí, presne tak ako pri prvých Turícach. V tejto kaplnke na poschodí sme vzývali Ducha Svätého spievaním tradičnej katolíckej hymny – Veni Creator Spiritus. Táto hymna je hymnou Ducha Svätého. Profesor, ktorý nás vyučoval, povedal, že sa budeme s vytrvalosťou modliť túto hymnu.
Na ďalšom stretnutí sme meditovali o Panne Márii. Bola pre nás príkladom pokory a lásky. Ako o nej profesor hovoril, zdal sa byť iným.
V tom čase som nevedela ani ja a ani nikto z nás, že tento profesor sa spolu s iným profesorom dlhé mesiace modlili za hlbšiu skúsenosť s Duchom Svätým. Ich modlitba a hlad ich viedli k založeniu modlitebnej skupinky v ich domoch. Udialo sa to mesiac pred našimi duchovnými cvičeniami.
V týchto skupinkách boli ľudia z rôznych protestantských denominácií, ktorí boli pokrstení v Duchu Svätom.
A v tejto skupine títo profesori zažili krst v Duchu Svätom. O tom, čo sami zažili, nám nepovedali. Iba nám hovorili, aby sme čítali Skutky apoštolské.
Takže boli sme v kaplnke na poschodí a vzývali sme Ducha Svätého. Bola tam aj ikona Panny Márie a prebiehala tam služba pokánia. Keď som počula prítomných študentov sa spontánne modliť, bola som nadšená, pretože ich hriechy boli ako moje hriechy. Bol tam moment, keď sme mohli ísť vyznať svoje hriechy na spoveď.
Toto bol veľmi dôležitý moment. Ak totiž chceme prijať viac Ducha Svätého, musíme činiť pokánie. Musíme túžiť sami seba vyprázdniť od hriechov a následne vznikne miesto, kam môže prísť Duch Svätý a naplniť nás.
Profesora sme sa spýtali katolícku otázku. Ak sme katolíci, prečo sa rozprávame o prijatí Ježiša? Prečo sa bavíme o prijatí Ducha Svätého? Nestalo sa tak už pri prijatí sviatosti krstu a birmovania? A profesor odpovedal: "Áno, Ducha Svätého sme prijali cez tieto sviatosti. Tieto sviatosti sme však prijali buď ako malí alebo v mladom veku. Teraz v dospelosti je potrebné tieto sviatosti sprítomniť".
Poviem Vám, že som nevidela Ježiša, ale duchovnými očami som vnímala, že stojí predo mnou a spýtal sa ma rovnakú otázku ako učeníkov kedysi: .
"Ty, Patti, za koho ma pokladáš?"
Uvedomila som si, že som mu nikdy bezpodmienečne neodovzdala svoj život.
Keď David Mangan prišiel s návrhom uskutočniť slávnosť obnovy krstných sľubov, bola som presvedčená, že to je skvelá myšlienka.
Bola som sklamaná, že ostatní do toho nechceli ísť. Mala som však takú očakávajúcu vieru a napísala som si do zošita tieto slová. "Chcem zázrak!"
Išla som do kaplnky, kde som si kľakla pred sviatosťou a prvý krát som vo svojom tele zažila skutočnú prítomnosť Ducha Svätého. Začala som sa triasť a vnímala som, že Pán je tu. On je Svätý a ja nie som svätá. Ak zostanem v prítomnosti tohto Svätého Boha, niečo sa mi stane. Mala som obavu. Moja potreba však bola väčšia ako moja obava. Potreba úplne sa odovzdať do Božej vôle. Na kolenách som sa v srdci modlila. Otče, odovzdávam Ti svoj život, akúkoľvek tvoju žiadosť prijímam. Ak by to pre mňa znamenalo utrpenie, prijímam to tiež. Iba ma Otče uč skrze tvoja syna Ježiša láske, ktorou miloval Ježiš."
Ako som sa kľačiac modlila túto modlitbu, zažila som neuveriteľnú Božiu lásku. Cítila som takú lásku, že som chcela až zomrieť. Iba jedna modlitba ostávala v mojom srdci: "Zostaň."
Toto je príbeh o začiatku katolíckej charizmatickej obnovy.
Pýtala som sa Pána, komu mám o tejto skúsenosti povedať. Po tejto osobnej skúsenosti som išla za kňazom a ten mi povedal, že David Mangan mal pred chvíľou rovnakú skúsenosť.
Ubehlo odvtedy 50 rokov a v mojej mysli ostali tieto kňazove slová: "Pán Ti ukáže komu všetkému máš o tejto skúsenosti svedčiť."
Išla som s touto myšlienkou do kaplnky a modlila sa:
"Pane to čo si urobil pre mňa, daj aj im."
Asi polovica účastníkov duchovných cvičení bola krátko na to v kaplnke. Niektorí plakali, niektorí sa smiali, niektorí vnímali, akoby ich telo bolo v ohni, niektorí chceli chváliť Pána , ale z ich úst nevychádzala angličtina. David Mangan a ostatní sa nahlas modlili v nových jazykoch. Neustále som vnútorne počula slová "chváľte Ho, chváľte Ho"
Keď som prišla nadšená domov, nevedela som zaspať a otvorila som si náhodne slovo zo Sv. Písmaz Lukášovho evanjelia:
Lk 1, 46 -50 "Mária hovorila: "Velebí moja duša Pána a môj duch jasá v Bohu, mojom Spasiteľovi, lebo zhliadol na poníženosť svojej služobnice. Hľa, od tejto chvíle blahoslaviť ma budú všetky pokolenia, lebo veľké veci mi urobil ten, ktorý je mocný, a sväté je jeho meno a jeho milosrdenstvo z pokolenia na pokolenie s tými, čo sa ho boja."
Nemala som rada modlitbu v nových jazykoch. Študovala som francúzštinu a vyrušovalo ma, že niekto môže hovoriť novými jazykmi bez toho, aby ich študoval .

Na jednom z našich nasledujúcich modlitebných stretnutí som sedela vedľa Davida Mangana a David sa začal modliť vo francúzštine. Po modlitbe som mu povedala: "David, nevedela som, že hovoríš po francúzsky?" On mi na to povedal, že po francúzsky nehovorí a že študuje latinčinu a nemčinu. Povedala som mu, že som ho počula modliť sa vo francúzštine. Spýtal sa ma, že čo hovoril? David vo francúzštine chválil Pána za to, že vylieva prúdy živej vody. Chválil Pána za Ducha Svätého.
Asi mesiac po duchovnej obnove v Duquesne mi začala klikať sánka a začala som spievať nádhernú pieseň v nových jazykoch.
Pozývam Vás teda, ak chcete chodiť v moci Ducha Svätého, vzývajte Ducha svätého, čiňte pokánie za svoje hriechy a pracujte na svojom posvätení.
14.10.2017 Vás pozývame zažiť krst v Duchu Svätom na službe Ježiš uzdravuje.
---
Back to stories | Share on Facebook | Become a friend of mojpribeh.sk on FB and share the Gospel
Good news
---
Video
Zaujímavá a výpovedná skúsenosť západoeurópskeho muža s hinduizmom, budhizmom, jógou, ezoterikou a okultizmom.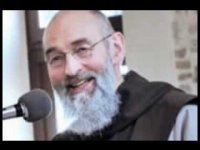 ---
Príbeh bývalého teroristu, ktorý dnes spája etniká a kmene.
Stephen Lungu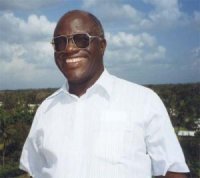 ---
Hudobníčka Lacey Sturm, bývalá speváčka kapely Flyleaf, bola presvedčenou ateistkou a mala v úmysle vziať si život... ale zrazu sa všetko zmenilo.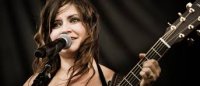 ---
"A rozhnevaný pán ho vydal mučiteľom, kým nesplatí celú dlžobu. Tak aj môj nebeský Otec urobí vám, ak neodpustíte zo srdca každý svojmu bratovi." (Mt 18, 34-35)
---
We all are part of a great story. The great story of the world is composed of past and present stories of lives of individual people. The portal mojpribeh.sk is focused on the most important moment of the story of the world and individual, the moment of personal experience of person with God.
Latest

Random
Total: 149 stories in this language.
There are 437 in all languages. To change the language please click on one of the flags.
Talks
Geoff a Gina Poulter
Geoff and Gina Poulter are active in healing ministry in Great Britain and in other European countries. They have zeal for building Lords kingdom. In Slovakia are already known mainly throwgh Jesus heals ministry where they were main speakers. They believe, that Lord comes with power, when we call him by His name and walk in faith. They are full of gentleness and kind behavior to people, which they serve with prayer for healing and prophetic giftings. Their ministry folows healings, sings and wonders.


2017-10-03

Ján Volko
I think Jesus plays a very important role. Faith in God helps me in difficult moments and also during competitions. I feel that God gives me His graces and blessing – and this is a huge support for me.


2017-03-27

Jerry Armelli
Former gay: It's a satisfying emotional and sexual relationship? Emotionally, sexually, absolutely; we both love sex. We're blessed. Sometimes we cry after we make love. It is very good.


2011-09-17
Facebook
Cesta+
Books